Posted by Stephen M. Nipper at July 3, 2006 10:59 PM
A friend of RTIP who has several years of litigation experience (defense and plaintiff work handling copyright, internet and trademark matters) is looking for a job in the Philadelphia/SoJo area. JD with NY/NJ bar admissions. If you've got a lead for him, please let me know (steve@rethinkip.com). Thanks in advance.
Posted by Douglas Sorocco at June 18, 2006 02:54 PM
We are proud to announce that our newest podcast is available for your down loading and listening pleasure – Rethink
(IP) Aloud #6.
The audio is approximately 47 minutes long and the file is a 41.1MB file. If you want to grab the RSS feed and subscribe to the Rethink(IP) Aloud podcast – you can get it via FeedBurner at Rethink(IP) Aloud Podcast.
This podcast is the audio portion of Matt's lecture on U.S. patent reform in 2006 and covers the efforts happening in the 109th Congress and at the Supreme Court and USPTO. We posted the video of the presentation over at Phosita last week and received many requests for an audio only version. Matt's PowerPoint slides to go along with the Patent Reform lecture are also available.
The intro and ending music is "Patricia" by Billy May and his Orchestra off the Ultra-Lounge Vol. 11 album.
Happy father's day!
Posted by Douglas Sorocco at June 5, 2006 09:31 AM
Well, as Steve said earlier – we are at it again.

Welcome the the June 5th edition of the Carnival of the Capitalists. Lots of good things to read and plenty of information for everyone.

My special thanks to Brian Gongol who posted the spreadsheet template that we used to create this weeks edition. It has been a crazy week and weekend – without the template, it would have been a very long evening last night.

And… without further ado… the Carnival of the Capitalists.
| | | | | |
| --- | --- | --- | --- | --- |
| Daily Dose of Optimism | Tadawul (Saudi Arabia) Stock Market Crashes; Saudi King Abdullah Plans "Risk-Free Fund" | | In the past three years, up to nine million Saudis, or half the population, have started playing the market in the conservative desert state, whose strict brand of Islam outlaws standard forms of gambling. They were encouraged by a government which hoped the bourse would enable citizens to share in the economic boom that has come with a rise in world oil prices not seen since the 1970s. It hoped that would help to iron out some of the country's huge disparities of wealth. | |
| Ask Uncle Bill | Taxes Country by Country | | There will be a lot of debate in the next few years over taxes. Some tax cuts expire in 2010, I think, and two--the 15% tax on capital gains and 15% tax on dividends-- have been extended for at least two years. People get all exercised about taxes with the fat cats not paying their share (actually 5% of the taxpayers pay about 50% of the taxes) or somebody yelling about taxes killing them. | |
| The Boring Made Dull | Doha and Agriculture Subsidies | | One of the few positive things that can be said about American agricultural policy is that it's not as bad as Europe's. So, not only does this toxic mess run up the prices of food around the world, create environmental problems, and generally harm poorer countries who could be exporting food, it now threatens the Doha round on tariff reductions. | |
| Mover Mike | Lawrence Kudlow Wears Rose Colored Glasses | | Larry Kudlow says Capitalism needs a moral core, and the G-Men are restoring the rule of law and re-moralizing our economic system. | |
| The Business of America Is Business | Terrorism as Economic Warfare | | Two American academics, James and Brenda Lutz of Purdue University, have recently published a very thoughtful and insightful analysis of the choice of economic targets of terrorist attacks. | |
| Passionate America | Passionate America Joins Wide Awakes Radio | | Blogging leads to work at home opportunity. I will be hosting my own internet radio talk show. | |
| Big Picture, Small Office | Guess Who's Coming to Dinner | | Big Picture Guy comes down on the side of angels, acknowledging that customers are people. But being people means having certain foibles, like expecting freebies from suppliers. This has led to a couple of uncomfortable situations and unfortunate exchanges. | |
| Purple Motes | Sensory Ecology | | Lessons from the failure of AT&T's massive investment in PicturePhone in the early 1970s | |
| Personal Finance Advice | Fuel Bank - Hedge On Gas Prices | | A new gas distibution system will be introduced this fall where you can prepay for your gas at a set price and hedge against higher gas prices in the future. | |
| Kicking Over My Traces | Evaluating Affiliate Ads | | A method to help in choosing among different affiliate ads for your website. | |
| Crossroads Dispatches | Losing My Mind, Coming to My Senses | | Looks at a new renaissance of sensual, aesthetic, abundance themes in companies from coffee to chocolate to 'green' architecture. (Ongoing series) | |
| Execupundit | Beware of Good Examples | | The dangers hidden beneath good performance. | |
| Photon Courier | Coal-Powered Jets: Update | | Within a few years, you may be flying on airlines whose fuel is derived from coal. | |
| GT | Nonviolent Communication | | It can be incredibly effective in the pursuit of developing oneself as an Authentic Leader. Institutions would be much healthier and much more fun places to spend time if we could all operate in the ManyOne-ness and communicate on a needs level. | |
| InvestorGeeks | A Progressive take on Dividends | | Do aggessive companies pay dividends? Frank shows that companies like Progressive Insurance can stay lean and provide a dividend to shareholders. | |
| The Browster Blog | Web 2.0 is Bottom up | | Web 2.0 is Bottom up. No, not "belly up", bottom up. User generated content is driving the growth. The idea that the users at the perimeter of the web, not the publishers in the center, are really the ones who create the web, blogging being a great example. | |
| Jack Yoest | Bribery as a Cost of Doing Business In Washington, DC | | In India it's called "Speed Money." In Mexico it's call "Facilitation." In China it's called a "Relationship." In the US of A, it's called a "Bribe." Except in Washington, DC, where it's called "Love." Frank Robinson, an Inspector... | |
| FiveCentNickel | Wire Transfers When Closing on a House | | Gone are the days when a cashier's check was essentially treated like cash — while they're still written against certified funds, there's been so much fraud in recent years that most banks subject cashier's checks to the same funds availability rules as plain old personal checks. | |
| Career Intensity Blog - David V. Lorenzo | The Eight-Step Process to Manage Your Emotions | | The most sound strategic thinkers make decisions based upon a harmonious blend of emotional and intellectual drives. Their passions incite them to act, and their minds guide them in navigating and making solid choices. Neither force overwhelms the other. They exist in peaceful synergy. | |
| SportsBiz | World Cup: The Real Battle is Stripes v. Swoosh | | The attention of the world will be focused on Germany for the next month as the World Cup gets underway. Adidas and Nike take their marketing battle to a new level as they battle for the largest audience in sports | |
| Patent Baristas | USPTO Biotech Backlog: Bad, Getting Worse, No End in Sight | | The San Francisco Business Times ran an article reiterating what patent practitioners already know. That is, the increasing backlog at the U.S. Patent & Trademark Office is bad, it's getting worse and the new set of proposals meant to reduce the waiting time will not provide relief. | |
| In Cash Flow We Trust | Personal Finance Tip: What Do You Need to Let Go Of? | | I believe we all have something we need to let go of to achieve the next level of financial success. When I was clawing my way up the corporate ladder at Merrill Lynch my partner looked at me one day and said:"Can you clean those things up-they look like hell." I sat there in stunned silence for a moment and looked at my crutches. | |
| Blog Business World | Blogging: The lazy person's way | | Are you getting lazy about regular posting to your blog? Are you feeling that it's just too time consuming to find topics and then have to develop them into worthwhile ideas? Do you think your time could be better utilized in some other manner than writing yet another blog post? | |
| Coaching4Lesbians | You Can't Rush a Boiling Egg | | I find the busier I get, the more I want to make things happen on my time frame. I want to make that 30 minute commute in 20 minutes (all while still doing it at a leisurely pace) when I'm running late. | |
| Econbrowser | M3 or not M3? | | Econbrowser takes an objective look at the growing urban legend about the money supply measure M3. | |
| Slow Leadership | Start-Up Sanity | | Advice for entrepreneurs and owners of small businesses (especially start-ups) on how to retain sanity and balance. | |
| The Coyote Within | Common Mistakes in Self-development | | Adrian Savage lists some common mistakes in setting out on a program of self-development that lead to wasted time and frustration. | |
| Wordlab | Apple Dei | | Wordlab points to an excellent parody. Is it defensible as a parody of Opus Dei, The Da Vinci Code, or Apple's marketing style? | |
| Jim Logan | Billing For Your Time Is Like Clubbing Your Next Meal | | Billing for your time is like clubbing your next meal. And the time sheet is a modern version of drawing a picture of the hunt on your wall. Clients are interested in buying results, not your time. | |
| Bizinformer | Just the Facts Maam - Union Facts Part II | | Ok, I admit it, I am not a union proponent and let me explain why from both an individual point of view and a business owner point of view. | |
| My Financial Awareness | It Is Never Too Late To Save | | Over the last few years, the discussion has been on how much money we can have if we only save early. In some articles, it talks about how we can be millionaires if we only save $2,000 a year for 5 years from age 21 to 25. The articles go on to discuss how if we save $2,000 from age 36 to 64, the amount saved would be less than ½ at age 65 than what would have been saved if we only saved from age 21 to 25 instead. | |
| Lip-sticking | Look, Dick. See Jane. See Jane Blog. | | Anyone who thinks women aren't blogging - in droves! - needs to wake up. We're online, in large communities, blogging about -YOU, maybe. Pay attention, we like to share product reviews - both good and bad. | |
| AllFinancialMatters | How Much Can You Save in a Lifetime | | Life savings calculator. | |
| Searchlight Crusade | Recurring and Nonrecurring Closing Costs | | Many people are uncertain as to what closing costs are. | |
| voluntaryXchange | ABAnomics | | When the NBA absorbed the ABA 30 years ago, one owner opted out for a share of the TV revenues. It's a great sports story, but the sportswriters have grossly overstated the profitability of the deal. | |
| Blueprint for Financial Prosperity | Vonage IPO Starts To Get Ugly | | Vonage sends over Bruno to collect on all its customers who got in on the IPO (and promptly lost a bundle). | |
| Pacesetter Mortgage Blog | Is Traditional Journalism Dead? | | Will professional businss blog do away with the need of many of our nations journalists? | |
| The Entrepreneurial Mind | Is it Time for the End of the SBA? | | The SBA is a mess. Outgoing Administrator Hector Barreto is only part of the problem. The very concept of the agency itself is flawed. | |
| Simple Thoughts | Corporate Blogging: Meet Fortune 500 Blogger - Sun's CEO Jonathan Schwartz | | Jonathan Schwartz is probably the highest profile individual to blog as CEO of Sun Microsystems, a Fortune 500 company. But that is not what this article is about. It is instructive to note how he leverages his blog to communicate with share-holders and Sun customers. | |
| Business & Technology Reinvention | Planes and Trains | | The lessons of Enron and Katrina have not been learned. So here's steps your your organization can take to prevent repeating those mistakes. | |
| BOB - Business Opportunities Blog | New Business Idea - Ultimate Kid's Restaurant | | Every month or so I'm going to try and suggest a new business idea or concept that has yet to be developed. If it's already out there, let me know. If not, try and add to the idea. By the way, feel free to start the business yourself! | |
| Paul's Tips | The easiest way to fool smart people | | There's a saying among con-men that smart people are easier targets, because they don't think they can be conned. | |
| Philosophy, et cetera | Costs and Regulations | | Let's distinguish two forms of regulation, reflecting the statist vs. Hayekian distinction. One option is to make the undesirable activity illegal. The alternative is to make it costly. More generally, we can regulate activities either by using the blunt instrument of the law, or else by the more subtle manipulation of market forces. I think the latter will often be preferable. | |
| MineThatData | Business Review: Sharper Image | | A new feature at MineThatData looks at the successes and failures of various businesses. This week, we take a look at Sharper Image. | |
| Free Money Finance | It's Not What You Make, It's What You Spend, Part 437 | | A couple makes $165,000 a year but is going backwards financially. Just another example of "it's not what you make, it's what you spend." | |
| CaseySoftware | Non-disclosure Agreements | | This is the first of a two part series about NDA's and some things that are good and bad about them. | |
| David Maister's Passion, People and Principles | Don't Compromise - Take Turns | | As part of leading discussions on the keys to great business relationships, I often ask seminar participants what they think the keys to great relationships are in personal life. | |
| My 1st Million At 33 | My experience of 100,000% of inflation in 4 years | | Do you know what it is like to experience an inflation of 100000% in four years? Oh no, I did not mis-type the number of zeros. It's 100000% or 1000X in four years, or 562% in 1 year, or 1.4% daily. It sounds crazy, but that was in the late 1980, once when I lived in a Latin America country. | |
| InsureBlog | Arrested Development | | Bob Vineyard asks "does crime pay?" His answer: it sure does if you're sick. | |
| GT | Authentic Leadership | | What is Authentic Leadership? To answer this question we can start first by answering what it is not. Authentic Leadership is not the behavior most are familiar with in modern day institutional life (business, government, education, etc.) It is not a relentless focus on quarterly earnings. It is not growth by all means necessary. It is not "The business of business is business." It is not ignorance of human and natural capital. It is not egoism. It is not unilateral decision making. It is not homogeneity or inequity. It is not a short-term focus. It is not borrowing from the unborn to lavish upon the born. It is not classism, hierarchy, dominance, imperialism, exploitation. It is not carrot and stick. It is not fake, phony, disjointed or disintegral. It is not a growing wage gap, an increasingly undereducated population, ideological supremacy or trickle down. It is not my way or the highway. | |
| Stock Market Beat | SAP Only Imitates Oracle's Bad Moves | | SAP claims independence when it comes to M&A but follows Oracle down the price-cutting path of doom. | |
| Resistance is futile! | We'd have more money if we were gay | | Tax breaks for same-sex couples, but not for heterosexuals -- how is that fair? | |
| Servant of Chaos | Ideas are Cheap | | Ideas are a dime a dozen, the challenge is implementation. What you need is a "Compliant Idea". Is that the sound of a steam train? | |
| New Development Homes Blog | Flipping off plan property and new homes | | Property speculators place deposits on units before they are built (off plan), with the intention of selling them on at a healthy profit before they have to pay the rest of the purchase price. | |
| Matt Inglot | The Top 5 Points A Venture Capitalist Wants To Hear | | A list of the top five things venture capitalists look for in a desirable investment. As an entrepreneur you should be hitting every point in your planning even if you don't intend to seek venture capital, as these are key criteria for an idea that has strong chances of success. | |
| Consumer-Driven Finance | Consumer-Driven Finance 2: Preemptive Strikes Against Medical Debt | | Consumer-Driven Finance shows how people can bargain and negotiate to get better prices for expensive healthcare services just like everybody else bargains and negotiates to get better prices for things like cars and homes; maybe medicine is more like other economic goods and services than we think! | |
Posted by Douglas Sorocco at May 29, 2006 11:27 AM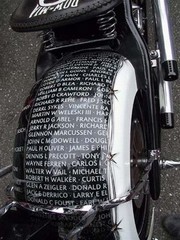 Lately, we've been a bit critical about the blog carnivals.
In fact, one of us referred to blog carnivals as nothing more than "link whoring" – admittedly, a bit over the top.
Our intention was never to kill off the carnival format: rather, we wanted to get people rethinking the underlying premise of a carnival and advocate that the focus should be on the quality of the links featured versus the quantity of links presented.
Well — the past two weeks of Blawg Review force me to issue a mea culpa:
Kevin Heller's Blawg Review #58 rethought the way in which BR is graphically presented. I am hoping that Kevin will share the code/template he used – I am hopeful that future hosts will want to further refine and revise the template and continue to provide the week's best law blogging in an attractive and easy to read format.


Anonymous Editor's Blawg Review #59 literally made me weep this morning – the sense of pride for what our nation's military men and women have done in service to our country and the ideals of freedom, coupled with a profound sadness for the loss their families have endured, pointedly reminded me of the reason why all Americans should offer thanks and gratitude ever day of the year, not just Memorial Day.

Ed underscores this point with his/her introductory comments — Editor's view: Memorial Day is a holiday we haven't ruined
Memorial Day is one of the best holidays we have because it's one of the few we haven't ruined by shifting the focus to consumption and entertainment.

Memorial Day, thankfully, isn't about us -- it's about them.

Them includes two groups: first, those who died serving our country; and second, children, whom we have an obligation to teach about the sacrifice of those who came before.
Thank you.
Photo Credit: Susan Scott Teachey, ON-Q Design, Inc., from the Rolling Thunder Motorcycle Rally in support of MIA and POW.
Posted by Stephen M. Nipper at March 15, 2006 08:11 PM
Back a few months ago everyone was abuzz with "Rollyo." Rollyo is a website where you can enter your favorite websites into a personalized search engine (ROLLYourOwn search engine or "searchroll"). Neat concept, but after some tinkering creating a "Rethink(IP)" Rollyo page containing all of the Rethinker's favorite IP sites and information...we never created a post for it. Oops. So, here it is: Rethink(IP)'s Rollyo page. Here's an example search: "Patent Troll."
The original sources were thrown together based on my bookmarks/OPML file and at that time I was limited to my top X sites. That may have changed, so Matt, Doug and I will go back and update the sources to make sure they are what we think are the best resources.
Today, I (being a part time Mac user) saw mention of a new (to me) Mac program called Nuevos. Nuevos is a search bar (much like you'd see in FireFox for searching Google/Amazon/eBay/etc.) that lets you search a variety of websites from one box.
Then it dawned on me, what if I added Rethink(IP)'s Rollyo page to Nuevos? So...I did. Now, I can easily search IP sites for a phrase (such as "patent reform") and know I won't be buried in splogs or paid avertisements. Only the sites Rethink(IP) picked will be in the results. Very cool.
Here's the code if you are a Mac user and want to create a Rethink(IP) Rollyo search link for Nuevos:
Posted by Douglas Sorocco at March 13, 2006 09:16 AM
Blawg Review readers may be surprised to learn that hosts of the Review are actually required to play by a few rules. There's the silly rule about the title of the actual post (no creativity allowed!), and then there's this:
"The host shall be at liberty to present the submission, or not, or make another presentation of the post as seems appropriate to the host for that Blawg Review, with unfettered discretion."
We're taking that rule to heart as we host this 48th Edition of Blawg Review. "Unfettered discretion" - definitely words we like.
In a nutshell - we're sick of carnivals.
Not all carnivals, mind you - just the long drawn out boring ones that really don't offer anything of value. We think that several popular carnivals, including Blawg Review, have become bloated, link-whore-optimized versions of the original vision for what a carnival should be - an edited review of relevant blog posts presented in a manner that contributes to thought-provoking conversation.
Does anyone actually click through all 100 links found in a typical carnival post? Of course you don't. If you are anything like us, you click through the first couple of links and then wander off to get more coffee, wax the car or perhaps even get some work done. Nahh... waxing the car is way more important. Who wants to read a bloated set of postings that really don't rise to being the cream of the crop... not us, and we think none of you want to either.
Remember the carnival experience of your youth? Your parents only took you to the travelling extravaganza when
you were good. If you went to the carnival every week as a kid... you were a carnie. And if you were a carnie, I assure you that the carnival would lose some of it "specialness" - it wouldn't be about the lions, tigers and bears - nope, it would be about the whining children, the drunken sailors and the bearded lady who won't quit grabbing your behind.
So - we have decided a little Blawg Review coup is in order -- we are rebelling -- we are rethinking the format of the Blawg Review. Instead of regurgitating a long string of links and quotes, we each picked one post that resonated - and it is this one post each that you will find here under the banner of Blawg Review. Yes, we know this rethinking (and retinkering) raises the possibility that we'll never again be able to post to Blawg Review or even host it, but in the interest of all who follow the Review, it is a chance we're willing to take.
If you really want to read all the other items submitted - head on over to Blawgr, you'll find the links over there (along with a lot of other interesting discussions).
With that introduction, we'll get on with the show...so here it is...Blawg Review, Rethink(IP) style...

Doug's Favorite Post:
Bruce MacEwen's blog, "Adam Smith, Esq.", should be the first thing every lawyer reads each morning! Now, how is that for an opening statement - Bruce is going to have a hard time living up to that introduction, but I have no doubt that he will be able.
While Bruce does have a propensity to dwell on the inner workings of the monster firms out there, I am consistently able to pull pieces of useful information out of his posts that benefit my medium sized boutique firm. Whether it is dealing with associates, hiring pressures or client service - Bruce never fails to provide relevant useful information that is brimming with insight.
I am not certain whether Bruce intends for his posts to be so relevant to our segment of the legal services industry, but I have a sneaking suspicion that he keeps us small fish in mind when hobnobbing with the legal illuminatti of the AmLaw 100.
This past week Bruce tackles the question of firm marketing efforts and comes to the conclusion that many of the efforts result in absolutely no return on investment.
"What Differentiates Our Firm Is..." [Nothing] To badly paraphrase Bruce, does your marketing drive new sales or is it merely a "shiny mess of nothingness" — i.e. do your firm's marketing activities sound like the following:
All the activities the reader cites contribute to "name recognition" for a law firm, but the actual "sale" (read: engagements to handle a piece of litigation, a corporate transaction, a tax problem, etc.) only occurs when the client has the precise need, i.e., is at the point of pain. No one in the history of the world ever woke up and said, "What I need today is to buy myself a really good contract...."
Keep on keeping on Bruce! I learn something new in every post!
Steve's Favorite Post:
Josh Cohen at the Multiple Mentality blog on "Obeying the law".
I've actually never see the "Multiple Mentality" blog before this weekend. I'm not even sure it is a law blog...but of the posts I read (and I read every single one of them), other than the two snagged by Matt/Doug, this one made me go Hmm.... Not that there aren't some great posts in the other pile (found over at Blawgr), but this one struck me as very interesting.
I won't ruin the post for you, but it involves this video:
We don't often see the youth of America questioning the law in a constructive way. Rather than just refusing to follow it, they sought to prove its lunacy. Bravo! Bravo!
Matt's Favorite Post:
My criteria in reviewing posts this week was simple: Did it make me think? Truth be told...not many of the submissions did. I should have known, though, that the submission from Blog Diva Denise Howell would fit the bill.
Denise revisited the familiar topic of the dangers, from an employers point-of-view, associated with employee blogging. Sure there's the possibility of leaking confidential information and a host of other potential ills, but Denise takes a fresh angle on the problem, and goes out on a limb in the process. Of all the various communication tools available to employees, Denise asserts that "blogging may actually be the least risky and most innocuous from a corporate risk management standpoint."
And she's got a convincing argument too. Read it in all it's glory in this post at the Between Lawyers blog.
Thanks, Denise, for stepping out on the limb and making me think.
So that is it folks! Once again, if you want all the other links — head on over to Blawgr (archived link to the post). Next weeks Blawg Review will be hosted by Jim Calloway over at the Law Practice Tips Blog. It's good to see another Okie taking the reins of Blawg Review next week — you never know, Jim might rethink the whole carnival format further – Okies have a way of doing that every now and then.
Posted by Stephen M. Nipper at March 6, 2006 07:05 PM
How many blogs do you need to have before someone does an intervention?
Rethink(IP) is proud to announce our latest collaborative blog, no not that one, but the "Shape Blog."
The Shape Blog is a collaborative effort between at least six IP bloggers: the TTABlog, the Trademark Blog, and Rethink(IP).
Rethink(IP) will be heading up the patent (design and utility) wing of a discussion of the intersection of 3D shapes and the law.
This topic is actually very important. As consumers are able to economically fabricate more and more items at home, IP owners that were previously immune to how consumer technology impacts their bottom line are going to have to pay attention. Think about it. If one could merely download a torrent of a part schematic from the Internet and "print" it on their personal fabrication machine (laser cutter, CNC, etc), why would they ever go buy replacement parts (or the original device in general)? Hmm...much gnashing of IP owner teeth ahead.
Here's the RSS feed: http://feeds.feedburner.com/ShapeBlog
Posted by Stephen M. Nipper at January 17, 2006 09:09 PM
One of my favorite Rethink(IP) readers I've had the pleasure to trade emails and Skype chats with is Flock design guru Chris Messina. Chris reminds me a lot of Kevin Heller. Chris is open source rethinker extrordinaire.
Chris is a fellow blogger (blog: Factory City) and likes to push IP buttons thereon. For instance: EFF the RIAA and Intellectual Property Perpetuates the Intellectual Police State. With posts like that, you can see why he is a "must read" in my aggregator.
It was his recent post entitled The Case for Community Marks that caught my eye earlier. In that post, Chris makes the point that there is a:

need for a mark that is owned, operated and enforced by a community that isn't driven by purely economic interest. Instead, the motivation derives from the desire to uniformly represent their work product as the output of a specific community. Period.
Hmm...sounds familiar.
Section 4 of the Trademark Act (15 U.S.C. §1054), provides for the registration of "certification marks" and "collective marks:"
The term 'certification mark' means any word, name, symbol, or device, or any combination thereof--

1. used by a person other than its owner, or

2. which its owner has a bona fide intention to permit a person other than the owner to use in commerce and files an application to register on the principal register established by this Act, to certify regional or other origin, material, mode of manufacture, quality, accuracy, or other characteristics of such person's goods or services or that the work or labor on the goods or services was performed by members of a union or other organization.

...
The term 'collective mark' means a trademark or service mark--

1. used by the members of a cooperative, an association, or other collective group or organization, or

2. which such cooperative, association, or other collective group or organization has a bona fide intention to use in commerce and applies to register on the principal register established by this Act, and includes marks indicating membership in a union, an association or other organization.
Maybe a hybrid of the two????
The comments are open....
Posted by Stephen M. Nipper at January 5, 2006 10:24 AM
Posting on our Rethink(IP) blog has been light. One of us changing firms, one of us preparing to be a first time father, all of us dealing with the Holidays and work...we have lots of excuses.
One of our excuses is that we are spending more and more time working over the various side projects we have (which means less time for blogging). Through these "projects," we hope to build a legal community that will help us achieve our goal of bringing Web 2.0 content to Web 1.0 attorneys.
That being said, one of our "projects" is about to go live. We are currently beta testing a forum/bulletin board which we have high hopes for. The goal of the forum is to create an on-line, collaborative discussion community for our readers, legal bloggers and attorneys in general.
If you are interested in helping us populate the forums with an initial set of forum topics and threads, please drop me a line (snipper@gmail.com) and I'll get you set up. Thanks in advance.
Posted by Douglas Sorocco at December 11, 2005 10:09 PM
I like to do carpentry and woodworking – mainly old house rehab stuff but occasionally I am inspired to make a
piece of furniture.
A common adage is "measure twice, cut once" and it is one that while I try to remember it, I often forget and have to recut a piece of lumber. Acting without planning can definitely be expensive.
It is also a good piece of advice when thinking about legal services and fees… measure your fees twice and cut them once. What this means to me is that you should always look at or measure a bill, invoice or statement twice — (once as the attorney and once as the client) — and then make a cut of the bill once (i.e. do what is fair to both the attorney and as the client).
Measure twice, cut once. Good advice – whether it is legal services or carpentry.
Happy holidays everyone!
Posted by Douglas Sorocco at December 3, 2005 10:07 AM
Just a quick post this morning.
Since Rethink(IP) is, at its heart, a collaboration – I found this short post from the b-spirit blog, to be an interesting read. Entitled Born To Collaborate:
Are we genetically predisposed to collaborate? There may be a biological basis as to why some individuals collaborate and multitask far more effectively than others.
This means that creative people remain more aware of and alert to extra information that comes streaming in from the surrounding environment. A "normal" person would see an object, classify it, and then forget about it, even though the object may be far more complex than he believes it to be. Someone who is less mentally keen needs to filter out extraneous stimuli in order to avoid suffering from overload and a resulting psychosis.
Posted by Stephen M. Nipper at November 2, 2005 10:31 AM
Insourcing is one of the main reasons Matt, Doug and I were drawn together almost a year ago. It was a conversation about how to work together to promote the insourcing of patent services to inland patent firms instead of outsourcing them abroad that started this great rethinking project. We've clearly gone beyond insourcing a major Rethink(IP) theme, but that topic is still close to our hearts.
In reviewing my client base recently I noticed something I hadn't seen before (and I'm sure my fellow rethinkers see too in their own practices), namely that the amount of work we are doing for foreign patent and trademark firms has substantially increased in the past few years. Substantially. Maybe The World is Flat has just opened my eyes more to the impact of technology and the Internet on my practice.
I'm not sure whether they are ditching their big city firms and insourcing to the Intermountain West and/or Midwest for customer service, for price, or for other reasons, but it is clearly happening. What amazes me is how quickly foreign IP attorneys get it, but US businesses as a whole don't.
Foreign IP work has traditionally been "quid pro quo," in that "if you send me work, I'll send you work." Perhaps it is due to the low performance of the US dollar or perhaps other factors, but the reality is that having IP work done in the US is as expensive as ever. In my opinion, this is a fact which is causing some foreign IP firms to consider other cost effective ways of protecting their client's intellectual property in the States, and one of those ways is insourcing. The result is that foreign firms are sending lots and lots of work to smaller firms in smaller metropolitan areas, firms that can't possibly support the old school quid pro quo.
Is it the end of "tit for tat" in IP work? I doubt it, but it is sure to have ripples in the market for worldwide IP services.
Other thoughts, insight and comments appreciated (the comments are open)...
Posted by Stephen M. Nipper at October 12, 2005 05:49 PM
No, this one is not for sale, but the guys at LexThink (Matt, Dennis) have put together a conference on Blawging 101. Entitled "BlawgThink 2005," if you are interested in blogging, you really should (1) send Matt/Dennis a request for an invite and (2) put November 11-12 on your calendar. Here is what they both previously said about it:


Join leading legal bloggers in Chicago on November 11 and 12 for BlawgThink 2005: a bold new approach to learning about legal blogging. This first of its kind two-day event brings together the largest group of legal bloggers ever assembled for two days of education, innovation, fellowship and fun.
The first day of BlawgThink
will feature structured educational sessions led by top legal bloggers covering basic and advanced topics, including blogging how-to, blogging tools, marketing tips, content strategies, RSS and ethics. Each session will have ample time for questions, demonstrations, and hands-on practice.
The second day of BlawgThink
, in true LexThink! fashion, belongs to you. Though we'll have some planned activities, much of the agenda will be determined by the attendees. By combining collaborative brainstorming techniques with small group discussion groups, we'll give you an unparalleled opportunity to meet, learn from, and interact with the best and most innovative legal bloggers in the country.
You bring your ideas, enthusiasm, and creative energy and we'll all come up with cool ideas to improve your blog, increase your blogging "ROI" and change the legal blogging landscape.
They have even talked
Matt
,
Doug
and
myself
into being guest speakers on collaborating with other bloggers/group blogging.
Speakers include:
Matt Buchanan
,
Ben Cowgill
,
Dennis Crouch
,
Fred Faulkner
,
Peter Flashner
,
Brandy Karl
,
Cathy Kirkman
,
Rick Klau
,
Jim McGee
,
Steve Nipper
,
Kevin O'Keefe
,
Evan Schaeffer
,
Doug Sorocco
,
Ernie Svenson
,
Jack Vinson
, and
J. Craig Williams
.
Finally...check out Matt Homann's recent post "
Why is BlawgThink Important
."
See you there...

UPDATE: Mr. Homann reminds me that we (as speakers) have a number of invites to give out. Thus, let us OR Matt Homann know if you are interested in going.
Posted by Stephen M. Nipper at September 7, 2005 10:46 AM
If you aren't familiar with
The TechnoLawyer Community
...you should be. TechnoLawyer provides a number of great newsletters, and a forum where "technolawyers" can ask one another questions about technology (i.e., "has anyone every used _______ and what did you think about it?"). It is an excellent resource for all tech attorneys, and has an archive which I have searched from time to time with questions (what scanner to purchase, whether I should upgrade to the latest version of __________, etc.). The best part? It is free. Try it, if you don't agree you can easily unsubscribe.
Over the past year I have been writing a newsletter for TechnoLawyer called "IP Memes." IP Memes is "a weekly newsletter that explores emerging technology-related intellectual property issues — or "memes" as we call them. Think of it as your coal-mine canary for intellectual property issues."
Previous IP Memes authors have included Dennis Kennedy, Denise Howell, Gail Standish, Kevin Grierson and Kurt Calia...an amazing group of alumni.
What excites me is the fact that fellow rethinkers Doug and Matt have agreed to join me as co-authors (starting with the September 26th issue). The IP Memes newsletter is subscription only...so, if you want to read it, you better subscribe today!
Posted by Douglas Sorocco at September 6, 2005 09:00 AM
Posted by Stephen M. Nipper at August 2, 2005 01:11 AM
A couple of weeks ago, Justice Sandra Day O'Connor spoke at a judicial conference in Spokane, Washington. During her speech, she read one
of her favorite poems, a poem which has since become a favorite of mine. I include the poem below (with the author's permission, of course):
"There Is No Indispensable Man"
by Saxon N. White Kessinger, Copyright 1959

Sometime when you're feeling important;
Sometime when your ego's in bloom
Sometime when you take it for granted
You're the best qualified in the room,

Sometime when you feel that your going
Would leave an unfillable hole,
Just follow these simple instructions
And see how they humble your soul;

Take a bucket and fill it with water,
Put your hand in it up to the wrist,
Pull it out and the hole that's remaining
Is a measure of how you will be missed.

You can splash all you wish when you enter,
You may stir up the water galore,
But stop and you'll find that in no time
It looks quite the same as before.

The moral of this quaint example
Is do just the best that you can,
Be proud of yourself but remember,
There's no indispensable man.
So. Next time you are patting yourself on the back for the case you won, how many people viewed your blog yesterday, or whatever gets your ego thumping, remember that bucket. [
Photo source
]
Posted by J Matthew Buchanan at June 12, 2005 10:50 PM
'Collaboration' is, no doubt, a buzzword with a bullet. We're being bombarded with products and services that promise to foster collaborative relationships and make existing collaborations more effective.
Great marketing hype. But let's get down to basics. What exactly is a 'collaboration'?
One listing on Google gives this definition: to work together and cooperate on a project.
Ok. Not sure that really helps. I think its more that just "working together" on a project. Thinking about it in the context of patent practice, an attorney could claim to be collaborating with a client on a patent project if he simply sent an e-mail or two to the inventors asking a few questions about the invention. That's "working together," isn't it? Sure. But, I don't think its a collaboration.
It seems something more is required. But what?
Some would have you believe that the missing "something more" is the right technology. As if using the right collaborative software package turns every relationship into a collaboration. Take the patent practice example again. Using a "collaborative environment," the patent attorney could post a draft application to the workspace and start a discussion with the inventor regarding the various questions he has. Once the inventor responds using the discussions in the environment, the attorney could revise the application and file it. Again, the attorney and inventor are working together on a project. It's hardly a collaboration, though. For me, it seems that they simply eliminated e-mail from the project. Cool, but not collaborative.
So here's the disclaimer (sorry for not putting it at the beginning of the post): I don't know the answer. I'm not sure what is needed to transform standard working relationships into full-blown collaborations.
I'm getting an idea, though. Rethink(ip) is a collaboration, I know that. Indeed, its quite an effective collaboration (slap me if I'm wrong, guys). So now I'm closely watching it and learning.
Why? Well, to start, I think it would be pretty cool to give Google a better definition of the term. Oh yeah, and I think it will help build better client relationships and deliver more effective service.
Along the way, I (we) will try to share some tips on effective collaborations…. We'll even share some of our experiences with the latest and greatest collaboration software environments (yes, we do have one we use and love).
Hopefully someday we'll be able to define the thing. I am prepared, though, for the possibility that we'll never be able to actually define it. I suppose in a worst case scenario, we could just resort to the classic definition of obscenity: You know it when you see it.
Posted by Stephen M. Nipper at April 8, 2005 11:03 AM
This post [thanks Doug] is for those of you I met last week at BlawgerConnect, TechShow and LexThink.
If I had to post a list of the most inspiring things I read last year, this would be on that list: a post on the "Relax, Everything is Deeply Intertwingled" blog entitled "Superhacker and Phoneboy" talking about starting a business and collaborating with others. The post is dead on, particularly:
Every person has strengths and weaknesses. The appeal of a partnership -- even if the team is just a pair of people doing what they can to leverage the power of two -- is a matching so well-suited that the pair's strengths are more powerful than those of either individual, thereby reducing the effects of each individual's foibles. Whereas finding a romantic partner is such a regular occurrence in our society that people couple all the time, finding a business partner who is truly complementary and thoroughly communicative and unquestionably trustworthy is a much more elusive achievement. And yet, there is tremendous value to a business person if s/he can find someone with whom s/he can triangulate issues, talk through everything, make decisions, and take actions. (Not to mention the benefits that stem from having someone who will always watch one's back, who will push back gently, and who will amplify the shared message.)
For me this is exactly what I have found in this rethink(ip) project, but I also see it every day in dealing with startups and independent inventors. Your success in life is more dependent upon the team you build around you (both at home and outside the home) than on your own passion. Sure, you need passion, but without someone to fuel that passion (and douse it when it burns out of control), your chances of being successful are greatly hindered.
Quit flying solo.
[Originally posted on The Invent Blog on April 5, 2005]