Posted by Stephen M. Nipper at October 10, 2005 01:29 PM
We've joked a number of times internally about things we hate about the USPTO's website and how we should compile a list of grievances. Today I stumbled onto one of the things I "hate" and it spurred me to start the list...
Grievance #1: Why in the world is the "LOGOUT" button above the search form boxes on the trademark search page (picture below). I don't know how many times I have loaded that page in a hurry and clicked that button by mistake like it was a "NEXT" or "ENTER" button. I think it is akin to putting a "delete all" button right next to a "save" button. ARGH!
What drives me nuts is that the Logout button is the first thing you see when you come to the page...just in case you changed your mind before you do the search and want to logout.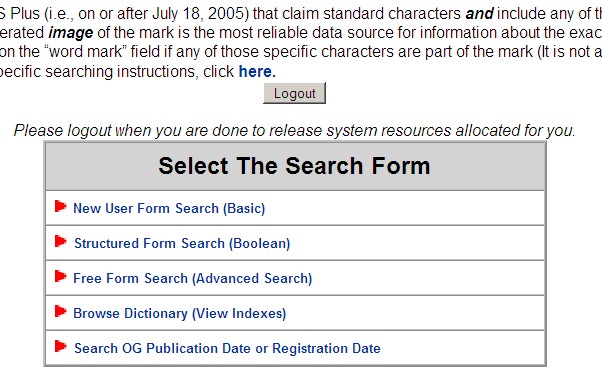 Feel free to send your own grievances over and we'll add them to the list.